Case Story: Buck Forestry improves efficiency and reduces data collection costs using UAV technology
Buck Forestry Services is a leading technical forestry services company in New Zealand. They undertake a wide range of technical services for forest owners, such as forest inventory and forestry operations quality control. This case story gives you a glimpse of how they use modern UAV technology in order to provide their clients with more accurate data at a lower cost and with increased efficiency.

Buck Forestry uses the latest techniques and software to collect accurate and reliable measurement data. One of the techniques they use is UAV (Unmanned Aerial Vehicle) technology, commonly referred to as drones. Kevan Buck, General Manager of the company, tells us more about how they use drones in their everyday business, and how this has helped them streamline their own as well as their clients' business operations.

It all started with a client request
A couple of years ago, one of the company's clients was on the quest to find ways to improve their data collection cost and efficiency. They considered various techniques and methods and eventually came to the conclusion that UAV technology should be a suitable tool, thanks to its high data accuracy as well as the supporting mapping software. When Buck Forestry was informed about this, they immediately realised the business potential and decided to dig into the matter, working with the client to evaluate different alternatives.

Evaluating alternatives
After a thorough analysis of the various types of drones, such as quadcopters, multi-rotors and fixed-wing drones, they came to the conclusion that a fixed-wing drone would be the best fit. "We needed a reliable drone that could fly for long periods in difficult terrain and in adverse weather conditions, so fixed-wing was the tool we wanted to pursue", Buck explains. To ensure they would make the right decision, they first evaluated three different suppliers regarding several important criteria, and finally they decided to go with SmartPlanes, who have a supplier based in Australia.

Various application areas
Buck Forestry uses their Freya UAV on a daily basis and for various applications. The drone provides high quality aerial imagery as well as high precision orthophotos, which makes it possible to survey large areas and make decisions based on accurate measurement data. Buck describes a typical scenario where the UAV comes in handy: "At the moment, many of our clients require accurate mapping updates in order to keep track of areas that have been harvested. In these situations drones have served as a very useful tool". UAVs have also proven very useful in the creation of digital terrain models as well as investigating hydrology aspects.

The result
Drones have proven to be a very cost and time effective tool for Buck Forestry, and Buck himself praises UAV technology when it comes to increased efficiency in their daily operations. "Compared to having people on the ground using more traditional methods, the UAV provides more data at a lower cost," Buck explains. However, he points out, there is a lot more to it than just flying the plane. You must also be able to make sense of the data that the technology provides you with. "The whole analysis and data interpretation process is a huge part of the solution. You need to have skilled people that can do not just the flying but also understand the whole data analysis part", Buck concludes.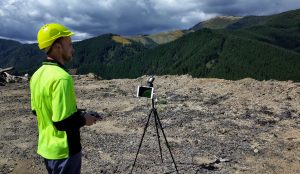 For companies considering investment in UAV technology, just as Buck Forestry did a couple of years ago, Buck highlights a couple of things that you should have in in mind. Firstly, you need to ensure that the drone is reliable and fit for your specific purpose. Secondly, you should make sure you have a committed and service-minded supplier or point of contact, preferably not too far away geographically wise. Finally, he highlights the importance of doing your research properly and to not underestimate the time that it takes to learn.



The future looks bright
So what about the future? Is UAV in forestry here to stay? Undoubtedly, if you ask Buck: "The interest in drones in forestry in New Zealand is huge. I'm sure it's just scratching the surface at the moment, but eventually it will be an essential tool in terms of what it can do for the forestry industry".
Watch this video where Buck Forestry used the Freya drone in action!